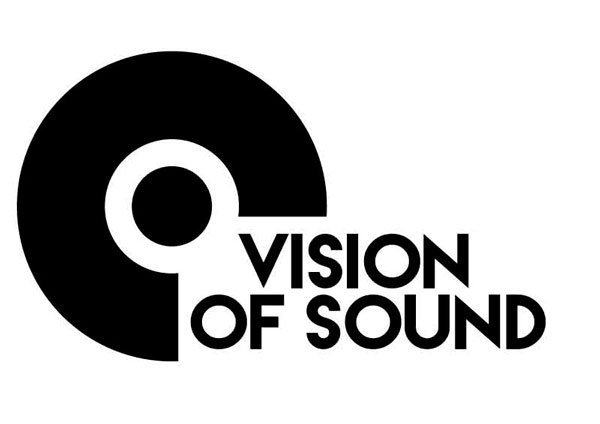 The Cross-Eyed Pianist:
Meet The Artist with
Composer Simon-Mary Vincent

"I am delighted to have been asked by Frances Wilson to contribute to her 'Meet the Artist' blog.
You can read my reflections on music as well as some insights into how I started as a composer.
It is a wonderful website with so many insightful, illuminating articles and I'm sure you will enjoy her work."
Vision Of Sound Records & Publishing was started in 1997 by composer and performer Simon-Mary Vincent to promote her contemporary classical and experimental music.
"Visionary and expressive", "rich and surprising", "incredibly individual", "masterful compositions", "an immersive experience", Simon-Mary's music has attracted praise and radio play from critics as varied as Fran Wilson, Lauren Redhead, Ben Watson, Julian Cowley, Nick Luscombe, Robert Hugill, Robert D. Rusch, Massimo Ricci, Gilles Peterson, Mr. Scruff, Fourtet, and has been reviewed in publications including The Wire, De:Bug, Knowledge Magazine, International Piano, Straight No Chaser, Dragon Jazz, Extranormal and Kudos.
Her unique work has led to appearances worldwide at the Tallinn Music Week, TechFestival Copenhagen, Erased Tapes Sound Gallery, Glastonbury Festival, Akademie der Künste (Berlin), ICA London, Club Transmediale (Berlin), Huddersfield Contemporary Music Festival, Internationale Ferienkurse für Neue Musik (Darmstadt), Visiones Sonoras (Mexico City), Making New Waves (Budapest), Q-02 Brussels, as well as on Resonance FM, BBC Radio 3, Ministry of Sound Radio and FM4-Austria among many others.
Having completed a commission from RPO Principal trombonist Matthew Gee for 3 electroacoustic miniatures, BBC Radio 3 Late Junction's Nick Luscombe, The Richard Wagner Museum's 'Amor Mundi Festival', as well as the 'Bayreuth Blättert' Literature Festival, she is currently performing and recording a new album with electro-acoustic trio Nàdair (with Dave Pullin and Chris Dowding) and composing 2 substantials new works for percussion with 4-channel electronics, and piano with 5-channel electronics.
With CD and Hi Resolution Digital Downloads already available, other products such as scores and articles will be coming soon.
Please get in touch to be put on our mailing list or for any further questions.
Simon-Mary Vincent:
Three Green Hills Pieces
Three Green Hills Pieces consists of three individual short movements for solo piano. Each movement sketches—rather than translates in any literal musical way—the aura of its subject, ranging from the flitting, slightly mischievous character of The Sylphid, the bold annunciatory presence of The Songthrush, and the open-hearted joy of The Spirit of Ecstasy.
The pieces were created using Pianoteq's physically modelled Steingraeber E-272 Concert Grand Piano with a preset customized by the composer. The midi information of the performances was captured by the software and exported as digital audio.
Three Green Hills Pieces is dedicated to longtime, Norwich-based musical collaborator and friend Dave Pullin on the occasion of his 66th birthday on 25th July 2022.
Available now on all streaming & download sites.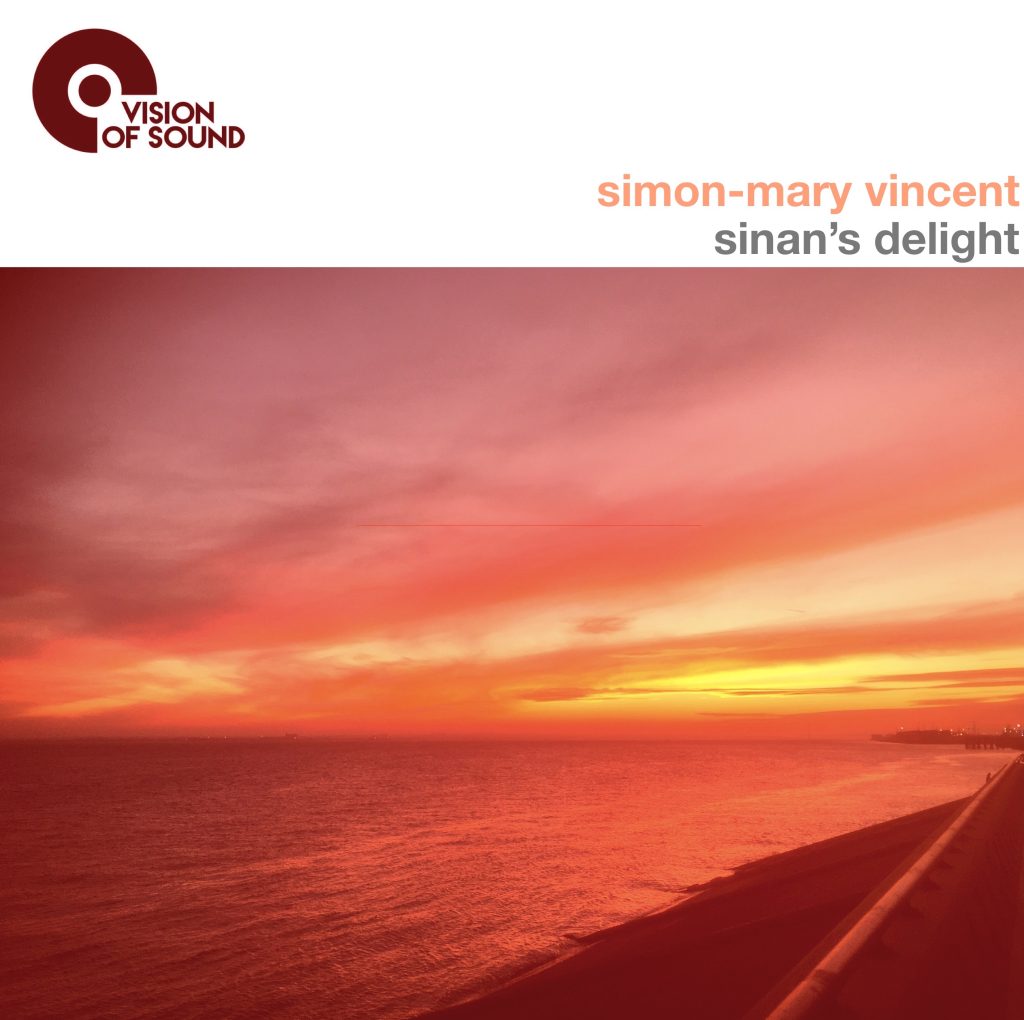 Simon-Mary Vincent:
Sinan's Delight
My works focuses on the more contemporary classical / experimental side of music, but sometimes other musical creations just pop out, as any composer will tell you.
So it is with Sinan's Delight, a little UK garage track, with some typical Vincent-type twists full of driving, swinging hand-programmed beats and warm synths.
It's named after Sinan Örs, promoter, agent, DJ and legendary good friend from our days working together at LTJ Bukem's label back in the late 90's/early 2000's. 
It's a perfect, free-spirited tune for the summer, and I hope you like it.
Available now on all streaming & download sights.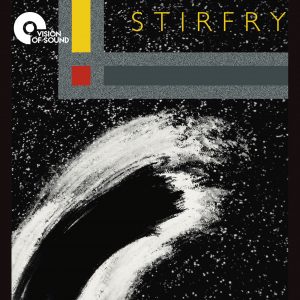 Stirfry:
Electroacoustic Improvisations
This is a very special release indeed on Vision Of Sound Records.
Stirfry (1993-1996) was an experimental electro/acoustic trio based in Norwich that constantly challenged many of the accepted rules and boundaries of free, improvised music-making at that time by way of its openness to sampling, melody and rhythm just as much as more experimental approaches to sound.
It featured Colin Brady (percussion), Dave Pullin (soprano and sopranino saxophones) and Simon Vincent (piano, synthesizer and live electronics), and in its brief yet intense history surprised – it's more than fair to say – audiences at some of the UK's leading improvised music events in Leeds, Sheffield, Manchester, London and of course Norwich itself.
This studio recording made in 1995 allows the listener a unique and focused window into the pacing, energy and above all detail of just some of the vast canvas of Stirfry's soundworld.
This release is dedicated to the memory of Colin Brady (1960-2021) and his breath-taking approach to sound and invention.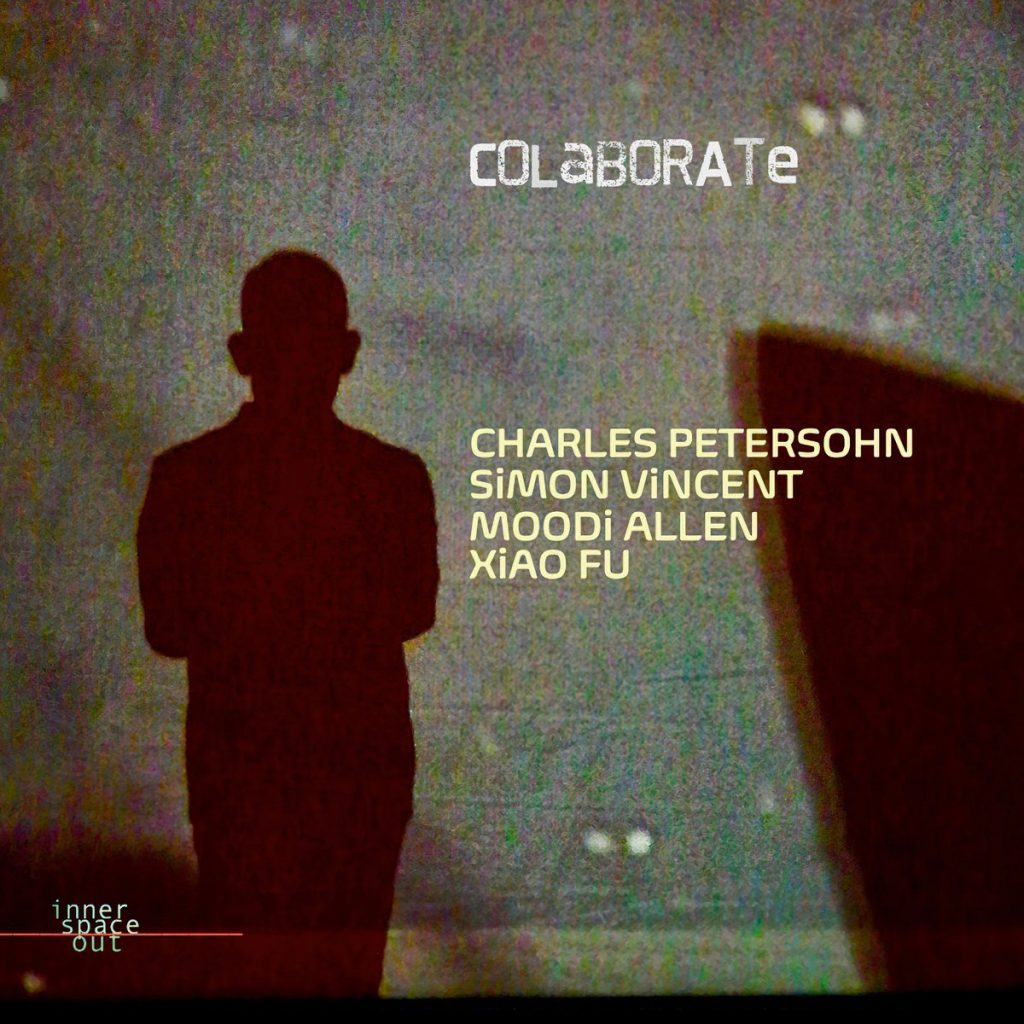 Dear All,
As ever, I hope this post finds you well under the circumstances.
The music continues of course but in a different way, and I thought it would be nice to start 2021 with a gentle collaborative track with German producer and dj 
Charles Petersohn
.
Charles has a unique way of composing, combining and producing highly atmospheric music, and there is no better example than this piece, evocatively titled "
once upon a time in vienna
". We hope you like it.
Stay safe and hope to see you all soon.
Simon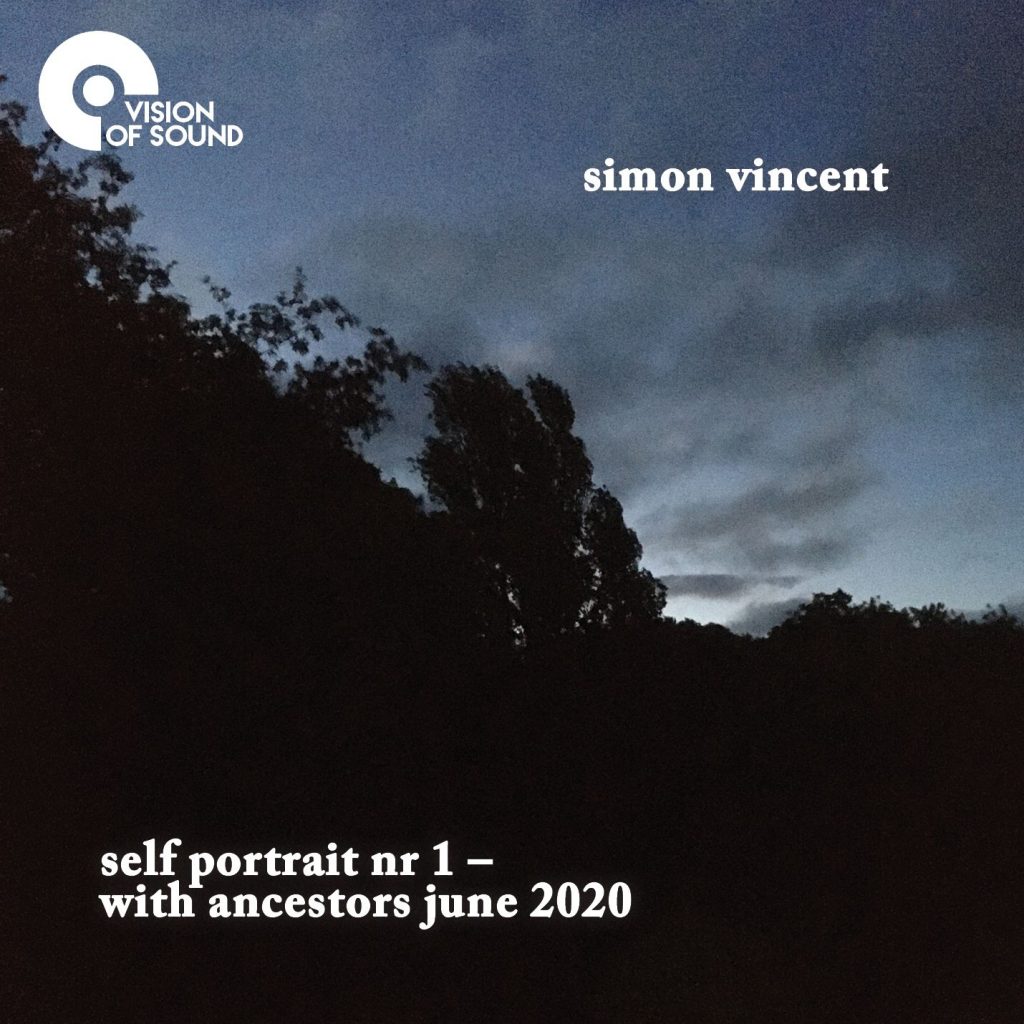 Vision Of Sound Records' latest mini release release Self Portrait Nr. 1 – With Ancestors June 2020 finds Simon Vincent clearing a path to hearing "un-called-upon voices… un-remembered stories."
A powerful and necessary self-portrait for these times.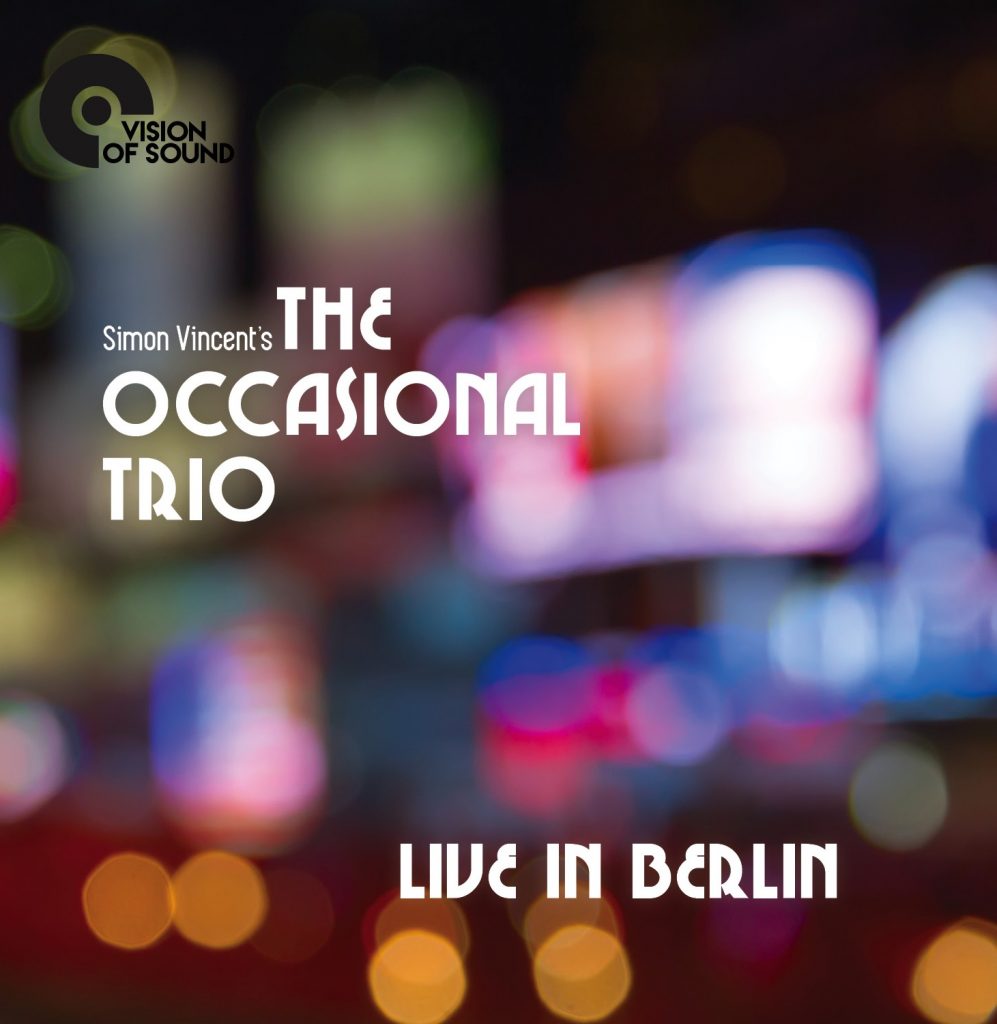 Vision Of Sound Records' autumn 2019 release The Occasional Trio Live In Berlin features The Occasional Trio in explosive form recorded over two nights at the Schlot Jazz Club in Berlin.
Their finest, most dynamic music to date, it is available from 18th October 2019, and you can pre-order the CD album here.

In collaboration with Steingraeber & Söhne Piano Makers in Bayreuth, I have been exploring the sound world of their marvelous pianos, including the recent Transducer Grand Piano.
You can see the results of this and many other exciting innovations here.
Due to the on-going corona virus pandemic, and for the health and safety of all concerned, many concerts have either been cancelled or postponed.
Please do check back for regular updates.
Thank you for your continued support and stay safe.
Simon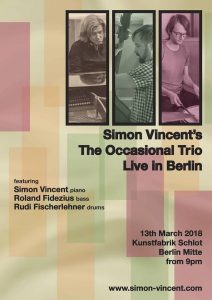 13th March 2018
The Occasional Trio
Schlot Jazz Club
Berlin
Germany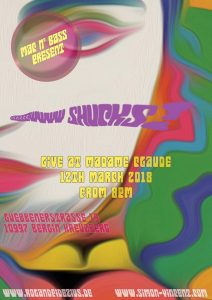 12th March 2018
Mac N Bass
Madame Claude
Berlin
Germany
28th February 2018
La Mia Coppa Trabocca
Works for Solo Piano & Electronics
Almedalen Library
Visby
Gotland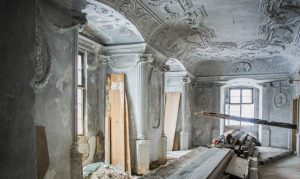 14th December 2017
SHINING.
Spectral appearances in the world of music.
Lecture & Solo Performance
Thurnau
Germany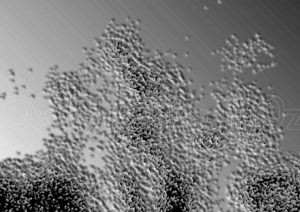 5-7th September 2017
Lena von Geyso, Sophie Tassignon, Simon Vincent
TechFestival
Copenhagen
Denmark

In a work curated by Lena von Geyso and commissioned by Tech Festival 2017, Sophie Tassignon and Simon Vincent will give electroacoustic interpretations of cyberfeminist texts and manifestos. More details soon.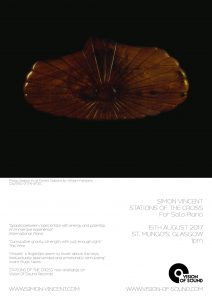 15th August
Simon Vincent
Stations of the Cross for Solo Piano (2016)
St. Mungo's
Glasgow

Continuing on from the successful solo piano tour earlier this year, Simon will be performing Stations of the Cross in the stunning St. Mungo's in August. Please do come along.
In the meantime, you can read reviews of the work from International Piano, The Wire, Avant Music News and many more
here.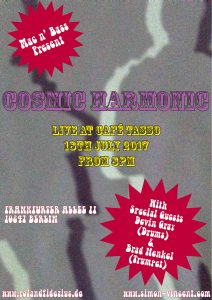 18th July
Mac n' Bass
COSMIC HARMONIC
with special guests
Devin Gray & Brad Henkel
Café Tasso, Berlin, Germany

Roland Fidezius (electric bass and live effects) and Simon Vincent (live electronics) will be returning briefly to planet Earth, having been buffeted along the way by the strange winds of B3109 Trump-X2, Delta Brexit7, and 43-Tory Mayhem Theta.
To commemorate this very special summer return, they have picked up 2 colleagues Brad Henkel (trumpet) and Devin Gray (drums)
and together, for one night only, they will present you with examples of the finest cosmic rock and stellar dust. Do join them.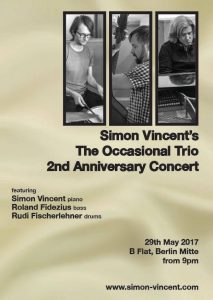 29th May
The Occasional Trio 2nd Anniversary Concert
B-Flat, Berlin, Germany

On the 29th May The Occasional Trio will be celebrating its 2nd Anniversary.

In its short time together, The Trio, along with wonderful the craft and talent of Roland Fidezius and Rudi Fischerlehner, has already received praise from BBC Radio 3, Cadence Magazine, Longplay, Jazz And Beyond, and Jazz FM among many others.

Known for its dynamism and interplay, The Occasional Trio's last concert of 2016 in the Schlot saw it reach new heights and the 29th May brings us back to the B-Flat in Mitte, where it all began back in May 2015.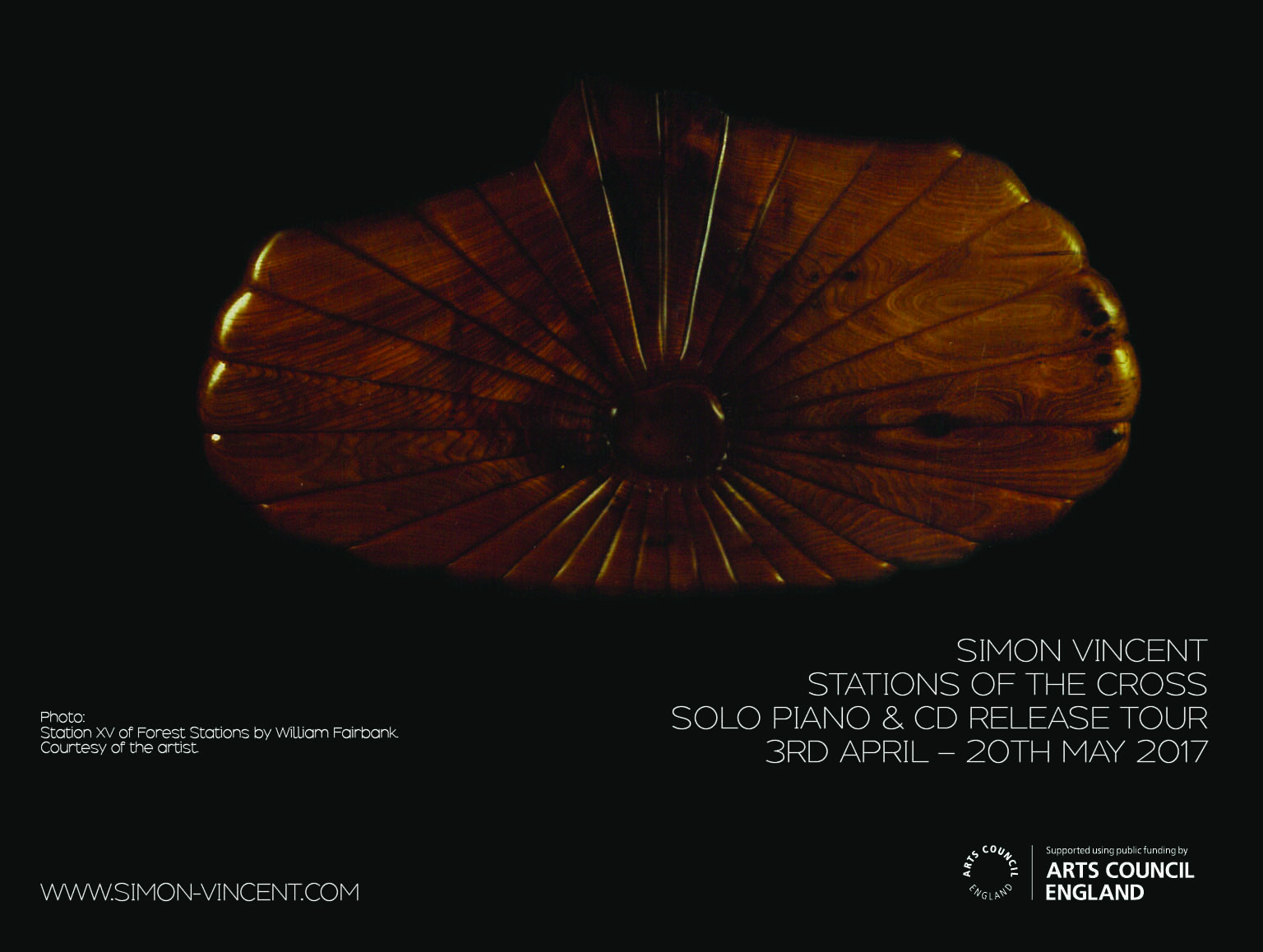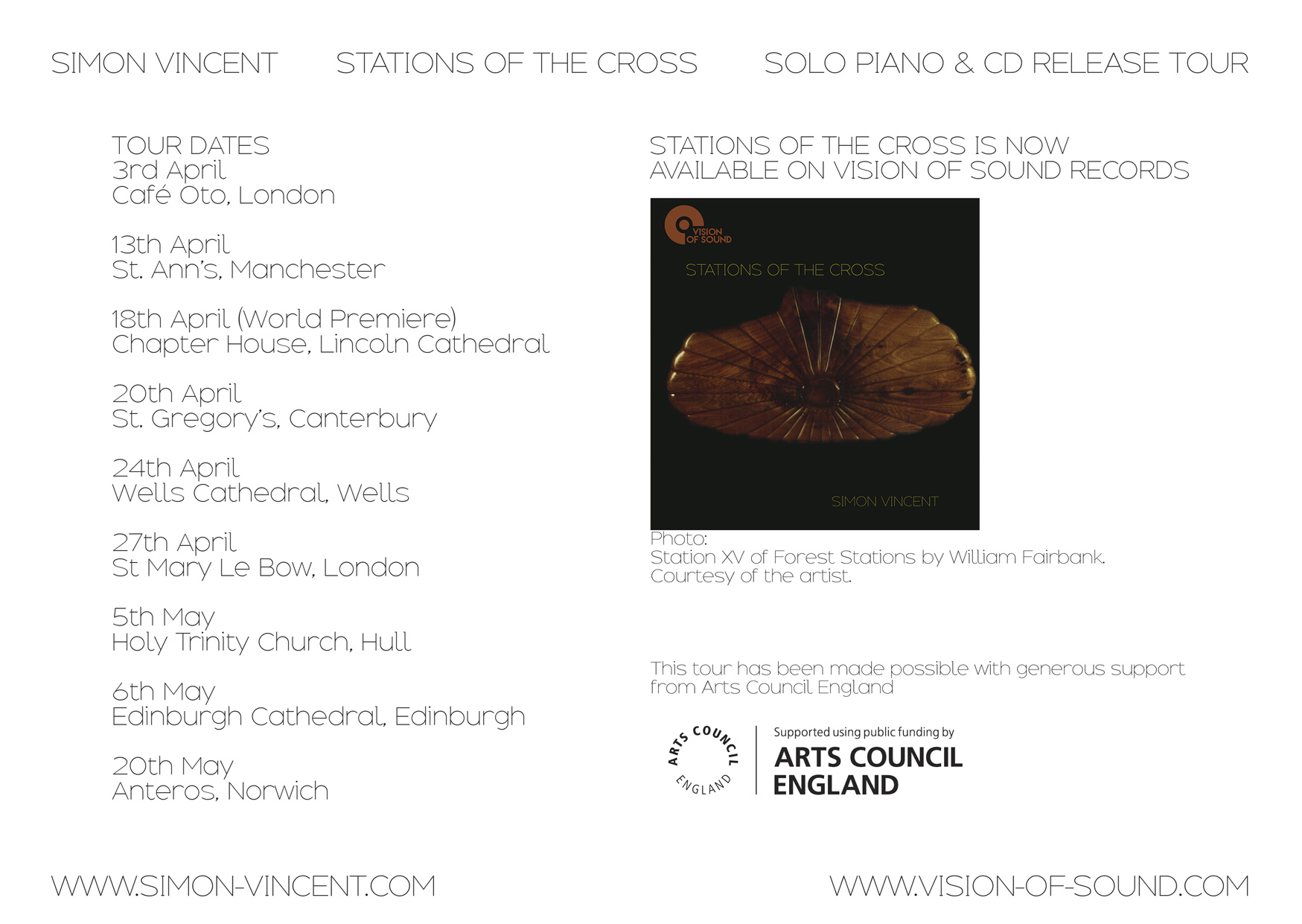 3rd April – 20th May
Simon Vincent
Stations of the Cross
Solo Piano & CD Release Tour


Starting in London on 3rd April, the tour will see Simon performing in Churches, Cathedrals and other venues throughout the UK.
Please click here for further details.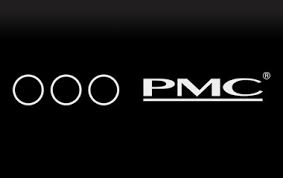 Simon Vincent / Vision Of Sound Records
PMC Key Client

Vision Of Sound is delighted to listed as a key client of PMC Monitors & Loudspeakers, having used their wonderful hi-end products exclusively since 2000.
Further details can be found here.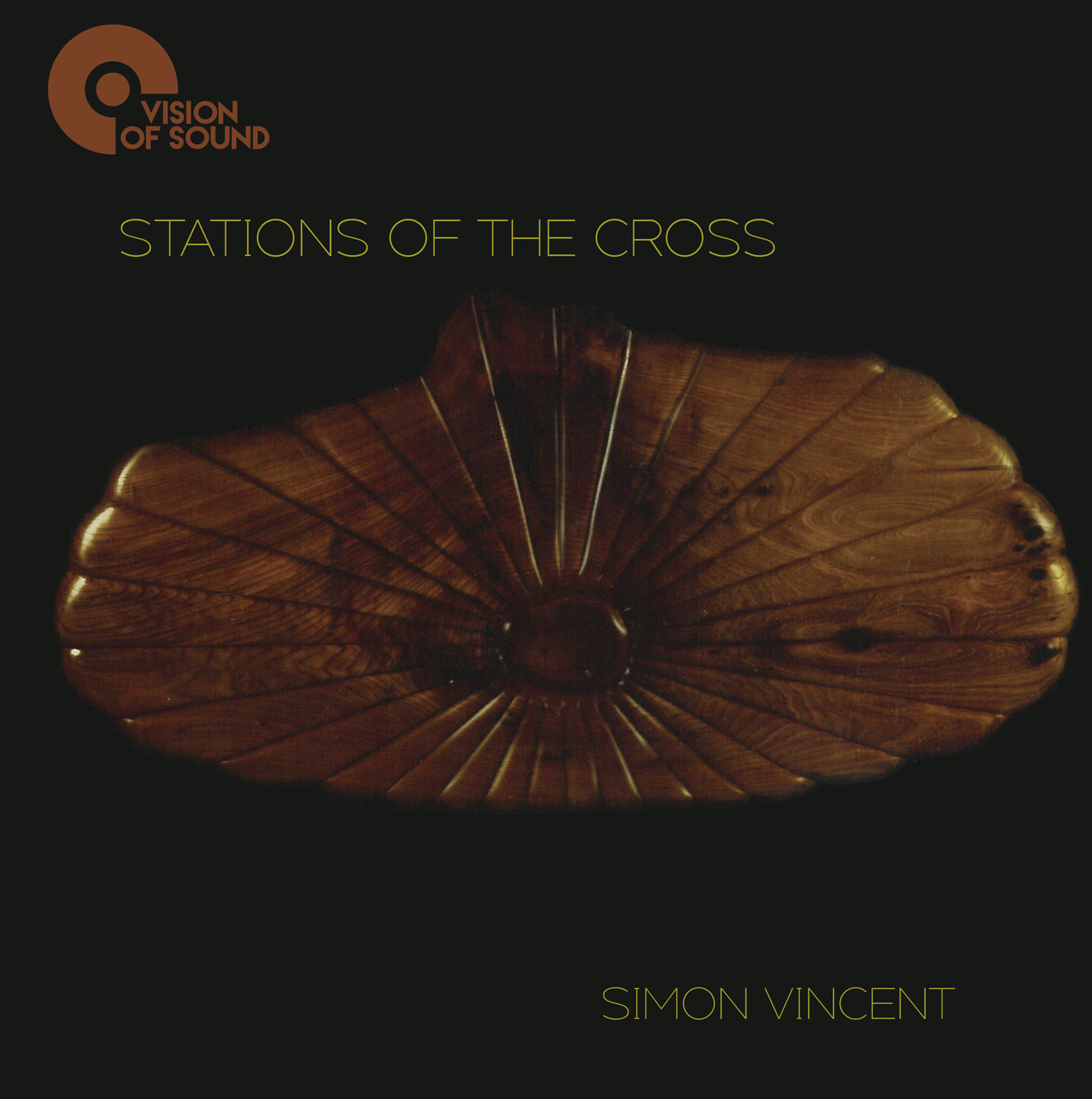 Stations of the Cross for solo piano.
The new composition by Simon Vincent

CD release and solo piano tour coming soon.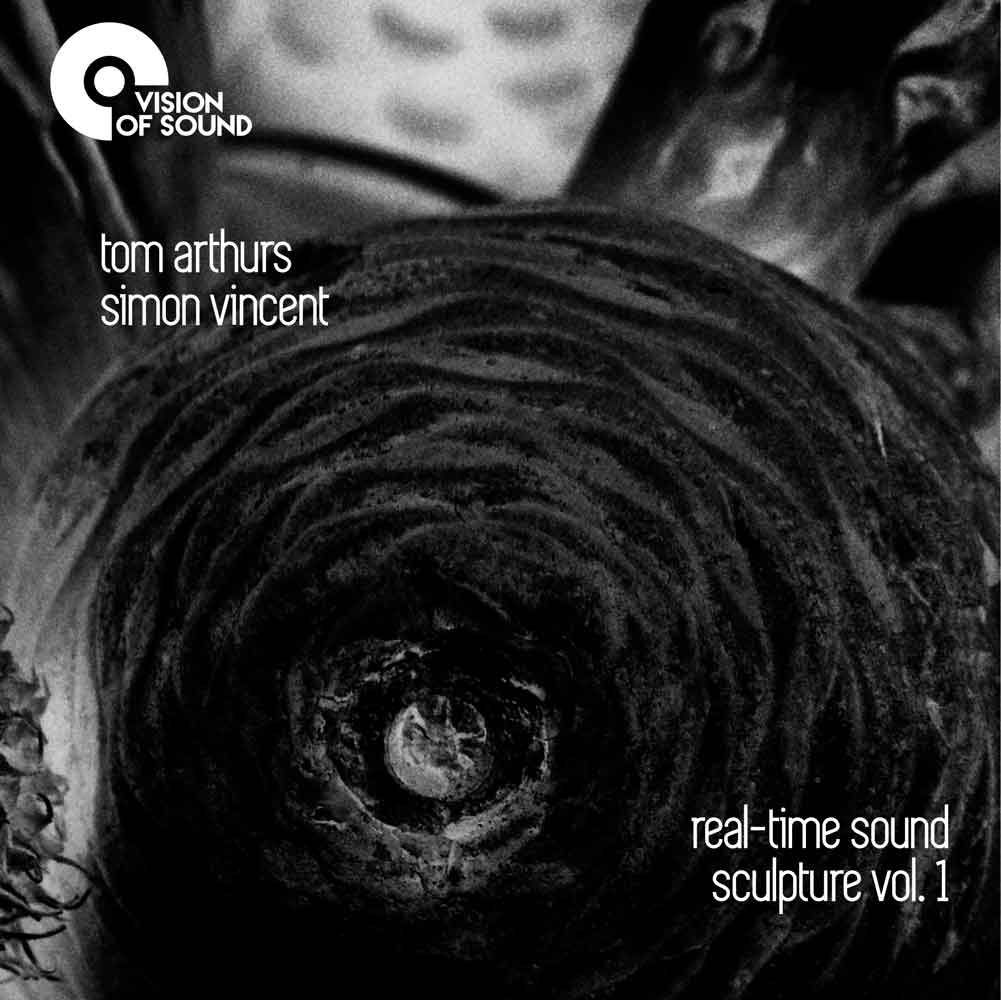 Tom Arthurs & Simon Vincent
Real-time Sound Sculpture Vol. 1
Available from 7th October 2016
Focusing on extreme detail and attention to the dynamics of sound, Tom Arthurs and Simon Vincent present this new album of stunning real-time sound sculptures, recorded in Berlin in 2015.
You can purchase the album as CD directly through us, or as digital download in our online shop.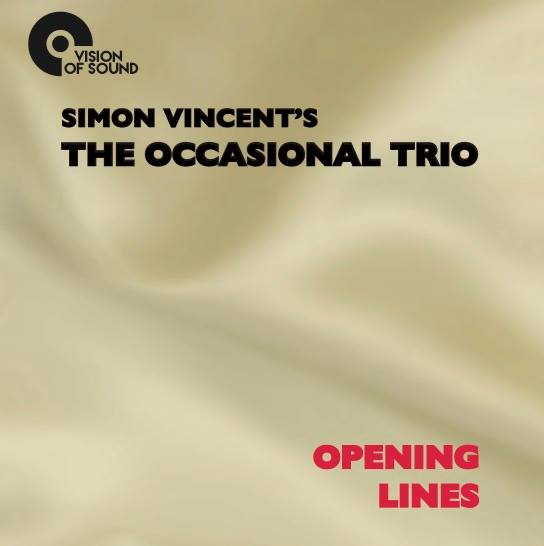 Simon Vincent's
The Occasional Trio
Opening Lines
The Occasional Trio's stunning début album Opening Lines on Vision Of Sound Records is now on sale.
Here are the latest reviews:
"Vincent has written some lovely tunes and plays them with a Debussy-like tension and style which may suggest Bill Evans but without the harmonic overlay. More please."
Robert D. Rusch, Papatamus, Cadence Magazine
"Future/memory jazz full of dynamism, melody and groove. Masterful compositions intimately performed. Beautiful music."
Nick Luscombe BBC Radio 3 Late Junction / FlomotionRadio
"Dynamic… sublime… refreshing… occasionally too much of a good thing can be wonderful."
Peter Wockner, Jazz and Beyond

"Layers of great sensitivity… captivating… vast shimmering piano impressionism… unique sensitivity for sound."
Robert Ratajczak, Longplay
"A pianist with a delicate touch… lyrical, extremely evocative music… propulsive and vigorous… exquisite."
Pierre Dulieu, Dragon Jazz
You can purchase the album here.
See videos of their fantastic Album Launch Concert on 12th May at the Schlot in Berlin here.